Starships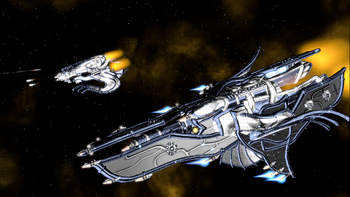 A Starship is the basic element of the military, which projects power beyond the home system, be it by establishing a new colony or sending an armada to wipe out enemy resistance. Ships generally fit into ship classes, each specified by a blueprint. The ship designer creates custom classes using specific components.
The available blueprints cluster into abstract ship types, with one blueprint defining the canonical form and others the variants. We define ship types by their hull size, role and primary weapon.
Support ships are unarmed and perform support functions according to their utility module or, in the case of the Carrier, carrier module.
Warships are armed with weapons, typically of a single type, and perform a specific role in battle.
Fighters are tiny hull ships that travel through the galaxy inside a Carrier. They are only deployed during ship combat.
Some citizens have their own flagships that perform a support role.
Some tiny hull ships perform automated functions.