Jurassic World: Dominion Dominates Fandom Wikis - The Loop
Play Sound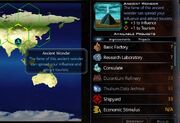 Tile bonuses are special colony tiles that give bonuses to certain improvements if they are built on the tile.
These tiles can be identified by a small colored icon at the bottom of the tile. While the different bonuses have unique icons their color signifies what types of improvements will directly benefit from being built on the tile. A purple icon means it will benefit from Tourism improvements, a red icon will benefit Military improvements, an orange icon will benefit Manufacturing improvements, a green icon will benefit Population improvements, a blue will benefit Research improvements, a cyan will benefit Influence improvements, an aqua will benefit Approval improvements and a yellow will benefit Wealth improvements.
The information of what the tile does is displayed in the top right corner of the colony screen when the tile is selected. The figure next to the green arrow indicates the bonus levels to the improvement built on the tile. The figure next to the orange compass is the adjacency bonus to surrounding tiles.
During the Alpha stage of the game tile bonuses could come from the terrain type of the tile. That has since been removed with all tiles defaulting to "Prairie lands", which gives no bonuses.
Tile bonuses
[
]